Rare spoon-billed sandpiper chicks in breeding 'first' die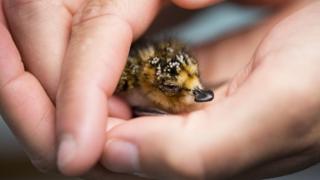 Two of the world's rarest chicks hatched in captivity for the first time have died, conservationists have said.
Seven eggs were laid by two female spoon-billed sandpipers in June at the Wildfowl and Wetlands Trust (WWT) in Gloucestershire and two chicks hatched.
But one tiny bird, little bigger than a bumblebee, died soon after hatching and the other suddenly deteriorated after a couple of days and died too.
Conservationists said they were "devastated" by the deaths.
With only about 200 breeding pairs of the critically endangered species left in the wild, the spoon-billed sandpiper is teetering on the brink of extinction in the wild.
The WWT began trying to establish a flock at Slimbridge in 2011, as a back-up to the wild population which was declining by up to 25% a year.
It was the first time anyone had attempted to breed or even keep spoon-billed sandpipers in captivity and after three years of trying to encourage the 23-strong flock to breed, it seemed to have yielded results.
Nigel Jarrett, WWT head of conservation breeding, said: "This is obviously very upsetting for the team.
"We're absolutely devastated, but we're trying to keep in mind that this has still been a positive step towards establishing a viable breeding population of spoon-billed sandpipers for conservation."
The wildlife charity said the causes of death were not yet known and specialist post-mortems would be undertaken for both chicks
It added that it would learn from this year's unsuccessful breeding and try to produce young that survive next year.
In the wild the bird has been hit by loss of inter-tidal habitat in East Asia as it migrates south from its Russian Arctic breeding grounds and bird trapping in their wintering sites in Bangladesh and Burma.