Gloucestershire salmon fisherman wins right to damages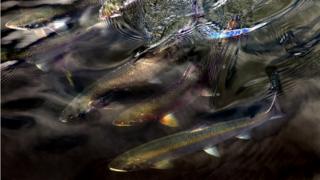 A fisherman has won the right to claim damages after the number of salmon he was permitted to fish for in the waters of the Severn was drastically cut.
Nigel Mott has fished near Lydney, Gloucestershire, with a putcher rank, an array of 650 basket-like traps, since the 1970s.
But in 2012 the Environment Agency (EA) told him he could only catch 30 wild salmon per season in the estuary.
It said it was necessary to protect the salmon fisheries of the River Wye.
The catch was reduced further in 2012 to 23 and to 24 in 2014.
But Mr Mott, won a declaration in the Court of Appeal that the agency had unlawfully interfered with his right to "the peaceful enjoyment of his possessions" contrary to human rights laws.
And last year he won a legal challenge at the High Court sitting in Birmingham. Judge David Cooke ruled there was no reasonable basis for the catch limits.
The judge said the agency decision was irrational and amounted to a disproportionate interference with Mr Mott's right to enjoy the fruits of his fishing lease under Article 1, Protocol 1 of the European Convention on Human Rights.
The EA appealed to three judges of the Court of Appeal - Lord Dyson, Master of the Rolls, sitting with Lord Justice McFarlane and Lord Justice Beatson.
Lord Justice Beatson ruled the High Court was mistaken in finding the agency decision irrational, but right to find that it had unlawfully interfered with Mr Mott's human rights and he was therefore entitled to claim damages.
The appeal judges ordered the case should be returned to Birmingham High Court for Mr Mott's claim for compensation to be fully considered.