Burst pipe leaves Tewkesbury without water for hours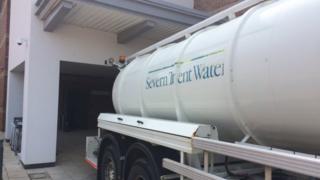 Thousands of homes and businesses in Gloucestershire were without water for several hours earlier after a water main burst.
Severn Trent Water said the "large burst" happened in Mythe, leaving the Tewkesbury area without water and causing eight schools to be closed.
The local hospital had a bowser connected to ensure it still had water.
Severn Trent said at 18:00 BST of the 7,500 properties affected only 77 remained without water.
A spokesman for the company advised that for a few hours supply might still be "intermittent" and that the water could be discoloured.
"There is nothing to worry about and we would like to reassure customers that we are working on getting supplies back to normal as quickly as possible," he said.
Gloucestershire Fire and Rescue also sent a high volume pump from Cirencester to help contain the leak.