Lydney Harbour swing bridge restoration under way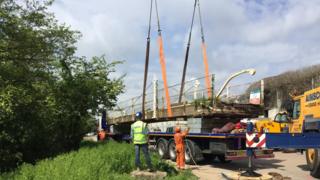 Work is getting under way to restore a swing bridge along a canal in Gloucestershire so yachts and motor boats can use the waterway once again.
Lydney Harbour's bridge is along a one-mile (1.5 km) stretch of canal that runs inland from the River Severn to Lydney.
A crane will lift the bridge out of position so it can be refurbished off-site.
Restoration will take about 12 weeks with the bridge returned in August.
The work is being paid for by the Environment Agency and government grants totalling £60,000.
The refurbishment involves fixing the operating mechanism to allow the structure to swing open and to close.
Timber cladding will also be replaced so that people can walk safely along the bridge without slipping.
Once the refurbished bridge is in place, it will be operated by the harbour master.
While the works are taking place, signs will be put up for alternative crossing points to access the harbour side.
The Lydney docks and harbour are both designated as a Scheduled Ancient Monuments.