Cotswolds MP Geoffrey Clifton-Brown criticises 'Coxit' idea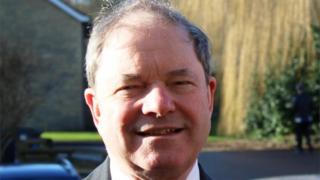 A district council which has proposed breaking away from a county council has been criticised by an MP.
Cotswolds MP Geoffrey Clifton-Brown said the idea for Cotswold District Council to merge with West Oxfordshire, dubbed "Coxit", would be "expensive".
But CDC leader Lynden Stowe said he was "shocked by the amount of flak" since the proposals were announced.
He said it was about getting the "best deal for residents".
Mr Stowe added "Gloucestershire could still be Gloucestershire without the Cotswolds" and there was "nothing wrong with exploring the idea".
Prime Minister keen
David Cameron, who is also MP for Witney in West Oxfordshire, has previously said the idea "should be fully explored".
Conservative MP Mr Clifton-Brown said: "The Prime Minister is keen on this proposal but I think there's a perfectly good Oxfordshire solution for Oxfordshire and a perfectly good Gloucestershire solution for Gloucestershire.
"It's once you start getting into the county structures - the social services, roads, civil contingency planning and all these sorts of issues, it becomes very much more difficult when you're crossing two county boundaries.
"[It's] more complex and therefore inevitably more expensive for my constituents in the Cotswolds."
Consultants hired by the councils are expected to publish their interim findings regarding the plans in the next few weeks.