Queen Victoria etchings fail to sell at auction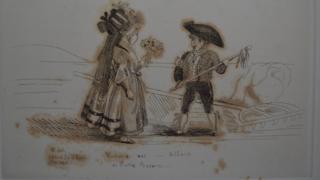 Family etchings drawn and engraved by Queen Victoria and Prince Albert, which were expected to raise up to £50,000, have failed to sell at auction.
The 80 prints are contained in a leather-bound album which the Queen presented to her friend Sir Theodore Martin in 1869.
Auctioneer Chris Albury said: "sadly... the etching did not reach the reserve of £24,000".
But he said he hoped to sell it on Thursday for £22,000.
"It's disappointing but sometimes an auctioneer can fall in love with an item too much and overestimate its auction value," Mr Albury added.
"Auction values for unusual and unique items can be very personal and nebulous and very difficult to gauge."
Queen Victoria and Prince Albert took up etching in 1840.
It is believed the Queen made 62 plates, while Prince Albert produced at least 25.
Many of the engravings are of pictures owned by the Queen, but others are of the royal children and dogs.
The album is one of six items that have come from descendants of Sir Theodore Martin, the Scottish poet, translator and biographer, and includes three folio books inscribed to him from the Queen as Christmas presents.