Cheltenham appeal over 650-home rejection thrown out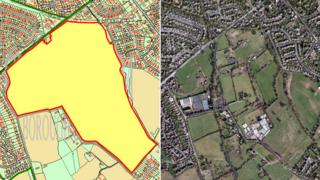 Plans to build a 650-home development in Cheltenham have been thrown out on appeal by the government.
Bovis Homes and Miller Homes want to build off Kidnappers Lane, Leckhampton.
Their proposals, which included a GP surgery and a primary school, were rejected in 2014 by Cheltenham Borough Council over highways and landscape concerns.
The developers said they were "obviously disappointed" their appeal against the refusal was unsuccessful.
They said they believed the proposals "would have provided a very suitable, high-quality and sustainable contribution to local housing need" and would be considering the finer details of the judgement.
Tracey Crews, director of planning at Cheltenham Borough Council, said: "Officers are working through the issues raised by the appeal decision with the main reasons for refusal being the impact on highway issues based upon the transport mitigation package put forward, impact on local landscape and issues raised by the debate on local green space.''
The developers have six weeks to start a further appeal through the courts.