Forest of Dean charity frustrated over injured animal recovery ban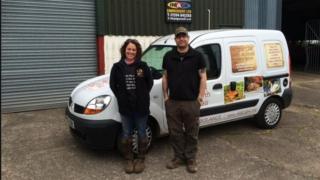 An animal rescue group has been warned that it could be breaking the law if it recovers injured wild animals from Forestry Commission managed land.
The charity A Wild Life with Animals has offered to run a 24-hour call out service for free in the Forest of Dean.
Forestry Commission Rangers work 09:00-15:00 from Monday to Friday. The charity said leaving injured wildlife for more than 48 hours was "inhumane".
The FC said it did not believe wild animals needed an "emergency service".
'Very let down'
In a statement it warned charity founder Scott Passmore against going onto land it managed to recover injured wildlife, saying he may be "in breach of The Forestry Commission Byelaws 1982 and the Welfare of Animals (Transport) order 1997 by an individual causing suffering to an injured wild animal, even by taking it to a vet".
An FC spokesman said it employed staff "to deal with animal welfare issues" on its land but "response may need to wait until staff are available".
The FC said it respected Mr Passmore's "good intentions" but would not grant permission to recover animals.
Mr Passmore said he would be writing to The Department for the Environment, Food and Rural Affairs (Defra) to ask whether the FC might be in breach of animal welfare laws.
"We feel very let down and frustrated," said Mr Passmore.
"This is simply a major failure of duty at management level to provide a humane and moral approach to animal welfare, not every animal that is injured needs to be shot and they deserve a chance to be helped where we can."