Novelty £10 note 'donation' to Big Issue seller condemned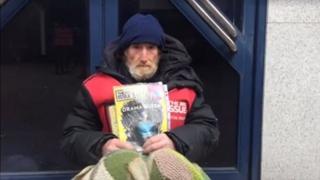 Two women who allegedly gave a Big Issue seller a novelty £10 note have been condemned by a homeless charity.
Paul, who has been selling the paper on East Gate Street in Gloucester for the last two years, said the pair gave him a £10 paper hand tissue as a prank.
He said: "They were laughing at me. They thought it was funny."
Dave Kinghorn, from Gloucester City Mission, said: "It's disappointing that someone would find it funny especially when lots of people are struggling."
The women, according to Paul, not only pretended to give him a £10 note but also set it alight in front of him.
On Facebook, their actions have been described as "disgusting" and "just plain nasty".
Hannah Ford asked: "How could anybody do this to another human being and think it's funny?"
Debbie Morris posted that they "must be really sick to think it's funny to do that to a vulnerable man".
However, Mr Kinghorn said the incident was "not uncommon".
'Spit at them'
"We hear stories from guys out rough sleeping or selling the Big Issue that people are rude to them, spit at them, laugh at them and call them names," he said.
"It's not really an easy time for a lot of people so for someone to think that that's a funny thing to do is really disappointing."
The Big Issue currently has about 2,000 sellers across the country.
Official vendors buy copies of the magazine for £1.25 and sell them for £2.50 - using the revenue as a means to earn a living.