Seychelles 'sex' banknote sells for £620 at auction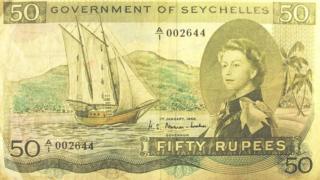 A banknote featuring the Queen with the word 'sex' spelled out in palm trees has been sold at auction for 250 times its face value.
The 50 rupee note, equivalent to around £2.50, was issued by the government of the Seychelles between 1968 and 1973.
Estimated at £200 to £300, the lot sold for £620 at the auction in Cirencester, Gloucestershire.
Auctioneer Philip Allwood said: "The message is clearly there. It's too precise to be a coincidence."
The note was produced at a time when the Seychelles was seeking independence from Great Britain.
It is believed that pro-independence printers incorporated the design into the note, Moore Allen and Innocent auction house said.
A similar note sold for £336 in an auction last year.
Another note in the series contains the word "scum", suggesting the additions were deliberate.