Pete Waterman launches £1.25m appeal to fund 'last mile' of Gloucestershire railway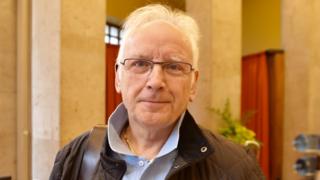 A £1.25m appeal to complete the "last mile" of a heritage line is being launched by producer Pete Waterman.
Gloucestershire Warwickshire Steam Railway (GWSR) currently runs between Cheltenham and Laverton but wants to extend to Broadway in Worcestershire.
A public share scheme raised more than £500,000 in 2014 but to complete the extension it now needs to raise £1.25m.
Mr Waterman, GWSR president, said: "There's nothing wrong with the railway now but the jewel was always Broadway."
Along with funding the last mile of track, it is hoped the public share issue will also pay for a station at Broadway which is due to open in 2018.
Ian Crowder, from GWSR, said it would put Broadway "back on the railway map for the first time in half a century".
"We've been laying track at the rate of about a third of a mile a year since 1984 and by the time we reach Broadway we'll be the fourth longest heritage railway in Britain," he said.
Mr Waterman said he was optimistic the target could be reached, following the success of a similar £1m emergency fundraising appeal in 2010.
"I think the response that we got for the landslides six years ago was colossal and I think that's what spurred us all to believe we could get this far," he said.
"And if everybody put a third of what I've put in this figure would be reached in seconds."