Shaun James: No charges after cold case murder probe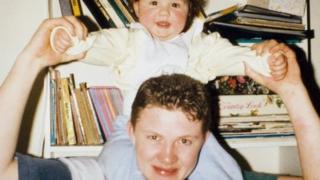 Three men arrested over the murder of a builder from the Forest of Dean have been released without charge.
Police believe father-of-two Shaun James was kidnapped and run over in Cinderford in December 2002.
A 61-year-old man was held on suspicion of murder and two others, aged 47 and 54, were arrested in April on suspicion of conspiracy to murder.
They have since been released from bail following a Crown Prosecution Service decision not to press charges.
Two other men arrested in connection with the case had their bail cancelled on a previous date.
'Disappointment'
Detectives investigating the case in 2002 believed Mr James' death was a hit-and-run accident.
The case was reopened in 2014 when new techniques and technology prompted officers to reclassify the death as murder.
Det Supt Steve Porter, from Gloucestershire Police, said it would meet the CPS to discuss the reason for the decision.
"We've informed members of Shaun's family and I completely understand their disappointment at this development," he said.
"We have reassured them though that the investigation is not over and that we will continue to pursue any lines of inquiry that arise."