More arrests over Yorkley Court Farm group eviction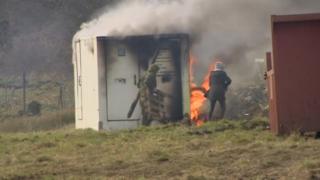 More than a dozen people have been arrested following an eviction from a community farm in the Forest of Dean.
Some 20 people were moved off Yorkley Court Farm land by bailiffs on Thursday but the group returned to the site.
One arrest was made earlier on Friday but a further 14 people were taken into custody during the evening for aggravated trespass and affray.
Removing a woman who had cemented herself to a chimney formed part of the operation by Gloucestershire Police.
However the force said the area was under their control and it would be guarded by security and passing police patrols over the weekend.
The group had been living on the land for three years.
'Squatters'
Kevan Spencer, spokesman for the landowner Brian Bennett, said: "Whether or not we want the people here is irrelevant.
"We are under a planning restriction which means that their dwellings are illegal . Therefore we will face court action if we don't get them to leave the site.
"They have done quite a lot of disruption and damage to the site and we have to put it back to its natural habitat. But clearly it's very difficult to work and remove things when you have protestors in the way.
"It's our priority, even though they are illegal squatters, is to protect their safety.
One resident, called Kieron, said: "We don't believe we've lost. We believe the land is for everyone."
Another, called Ben, said it was "terrible" as a number of people had been made homeless and there was "no provision being made for them".
However the landowner said an offer of alternative accommodation from the District Council had been declined.