Evicted Yorkley Court Farm community group return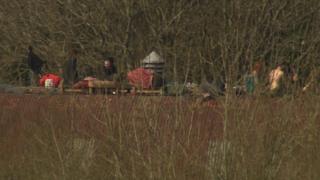 A group of people who set up a community farm in the Forest of Dean have moved back onto the land the day after being evicted from the site, police have said.
Bailiffs moved off about 20 people at Yorkley Court Farm on Thursday. Police also made one arrest.
The group, who had been living there for three years, returned on Friday and have gathered around an old hangar.
Security staff have called in the police to deal with the situation.
Gloucestershire Police said it is private land and had advised those present to leave immediately.
"A number of people on site refused to comply and some have now occupied the roof of a hut on the land," a force spokesman said.
"During the day some of those on site were seen with weapons and behaving threateningly."
Police arrested one man on suspicion of assault.