Gloucester Foodbank appeals for depot for 25 tonnes of food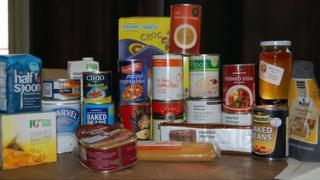 Food bank volunteers in Gloucestershire are "desperately" trying to find somewhere to store 25 tonnes of food.
Gloucester Foodbank has been using a depot in Barnwood but said it had "lost the space" and now has to move its entire stock by next Wednesday.
It is appealing for 3,000 sq ft (280 sq m) of storage in or near the city.
Annalise Sterry, the foodbank manager, said: "We're using whatever space we can find but we desperately need to find somewhere to store our food."
Run by The Trussell Trust, the food bank provided three days' worth of food parcels to 4,900 people in 2015.
This year, according to Miss Sterry, it has "already passed the 5,000 mark".
"Demand is increasing, people really need our services and obviously we're worried about how we're going to store all the food," she said.
"We knew we were on a month's notice so expected it would arrive but not so soon and now we need somewhere which is preferably rent free."