Gloucestershire hospital A&E waiting times 'disappointing'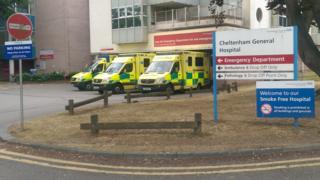 Hospital bosses have not done enough to improve A&E waiting times, a watchdog has found.
Monitor said Gloucestershire NHS Hospitals Foundation Trust had failed to meet the four-hour waiting time target.
It called the findings at Gloucestershire Royal and Cheltenham General hospitals "disappointing" and said it would re-investigate.
The trust said it was a complex issue but one it was committed to.
"We will work closely with them to learn what else can be improved to ensure that patients benefit from high quality care," a spokeswoman said.
Following an investigation last year the trust agreed to develop a plan to cut A&E waiting times, appoint an improvement director and work with Monitor.
Claudia Griffith, from Monitor, said: "It's disappointing [the Trust] hasn't made greater progress with planned improvements and patients are too often waiting too long to be seen in A&E.
"We understand the trust may need extra support, including from its local health and social care partners, to cut its A&E waiting times."