Cotswold Council's plan to split from Gloucestershire could 'tear up' county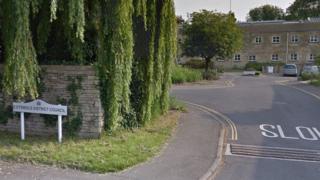 A plan for Cotswold District Council to from a unitary authority with West Oxfordshire could mean "the end of Gloucestershire", it has been claimed.
Councillors announced proposals to create a Cotswold-West Oxfordshire authority, on Thursday.
Lynden Stowe, from Cotswold District Council, insists the Cotswolds would still remain part of Gloucestershire.
But Gloucestershire County Council's Mark Hawthorne, said he did not want to see the county "torn up in this way".
In a bid to get rid of Oxfordshire County Council, district council leaders across the region are hoping to create four new unitary councils.
Cotswold District Council, is one of two councils in Gloucestershire hoping to join the new structure.
But Mr Hawthorne, leader of Gloucestershire County Council, said he was "very disappointed" and was "committed to keeping Gloucestershire together".
"Gloucestershire as a county has existed for 1,000 years and the Cotswolds has been an integral part of Gloucestershire for all that time," he said.
"You can't suddenly be in Gloucestershire in the heart of the Cotswolds one day and suddenly find yourself being part of Oxfordshire the next.
'Not redrawing borders'
"This isn't just about does this stack up financially, this is about is this right for Gloucestershire? Is this right for Cotswold residents to see our county torn up in this way?"
However Mr Stowe, leader of Cotswold District Council, insists that "of course" the Cotswolds would still be part of Gloucestershire.
"We're not redrawing any borders, these traditional historic borders are going to stay absolutely in place. What I'm saying though is about the administration and the delivery of council services," he said.
"And there's a great deal of synergy between the Cotswolds and West Oxfordshire - after all we both have this thread of the Cotswolds running all the way through us."