Cheltenham 'criminal feud' shooting police make more arrests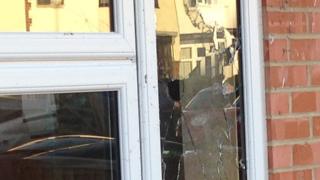 Four more people have been arrested over a shooting in a residential street in Cheltenham.
The shooting on Wednesday at a house on Bouncers Lane in Prestbury, has been linked by police to a "criminal feud".
Gloucestershire Police said a man, 28, of no fixed address, and three men aged 26, 30 and 32, from Cheltenham, were arrested at the weekend and bailed.
Nine people arrested on Friday on suspicion of "a number of conspiracy offences", have also been bailed.
Up to four men were spotted by witnesses arriving at the house in two cars at about 22:45 GMT. They went inside and fired a number of shots before driving off at speed. Nobody was injured.
Det Insp Hannah Mackie said: "We still believe there are more people involved in this who we need to arrest and we're still working hard to identify who the main perpetrators are.
"We appreciate the patience and cooperation of the local community but are still urging people to come forward if they know something."