Artist Stuart Semple asked to prove works are his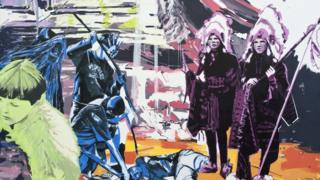 An artist has dismissed a request to prove he owns his own art, which has been recovered as part of a fraud inquiry, as "frankly ridiculous".
Works by Stuart Semple have been seized by Gloucestershire Police investigating Opus Fine Art gallery in the Cotswolds.
The gallery owners Donald Smith and Emma Poole took the works with them to France after they sold the business.
The pair face allegations including dishonestly selling loaned art without the owners' permission.
Works by fellow artists Banksy, Damian Hirst and Andy Warhol are included in the inquiry.
A letter from the police to Mr Semple says the administrator for Opus Fine Art in Stow-on-the-Wold requires "evidence of ownership" for the pieces which are being held at "a secure location, at the expense of the public purse".
Mr Semple whose works are owned by celebrities including Bradley Cooper, Sienna Miller, Debbie Harry and Noel Gallagher said he is "so unbelievably disappointed" in Gloucestershire Police.
"They have asked me to prove I own my own art, which is quite impossible and frankly ridiculous," he said.
Mr Semple said his works are "not simply stock or valuables, they are deeply personal things".