Gloucester's Crypt School plans full admission for girls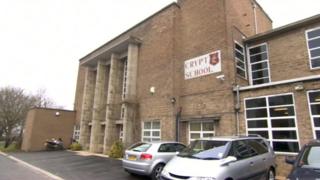 One of England's oldest schools wants to fully open its doors to girls for the first time in its 488-year history.
The Crypt School, Gloucester is considering plans to admit girls in year seven from September 2018.
Headmaster Nicholas Dyer, said it was in response to "extremely limited" opportunities for co-educational grammar schools in the area.
Girls have been admitted to its sixth form since 1987.
'Increased choice'
The school, which dates back to 1528, said Gloucestershire currently has seven grammar schools but only one is co-educational.
"Governors have therefore concluded that the City of Gloucester will benefit from the establishment of a co-educational grammar school, which will result in increased parental choice in the city and region," Mr Dyer added.
The governors also want to increase the school's year seven intake from 140 to 150 in 2018, and say they will investigate whether or not to build a co-educational primary school on The Crypt's site.
A formal consultation will take place in May and in November for the proposed increase in school admission numbers.