Cheltenham shooting linked to 'criminal feud'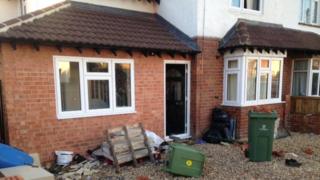 A shooting in a residential street in Cheltenham has been linked to a "criminal feud" by police.
Gloucestershire Police were called to reports of gunshots at a property on Bouncers Lane in Prestbury, at about 22:45 GMT on Wednesday.
Witnesses said up to four men arrived at the house in two cars. They went inside and fired a number of shots from a shotgun before driving off.
Nobody was injured in the incident and a police inquiry has been launched.
Gloucestershire Police said two cars - a BMW 3 Series and a Volkswagen Tiguan - left the scene at speed.
Sgt Lucie Koeltgen said: "Any incident involving a firearm is shocking but I would like to reassure the public that we believe the incident is related to a criminal feud.
"Thankfully nobody was injured. However, that doesn't make this any less severe and our officers continue to investigate the circumstances around this incident.
"Help from the local community is vital in bringing these offenders to justice.
"I would urge anyone who may have seen or heard something around the time of this incident to come forward, no matter how small they may think that information is."
House-to-house and forensic inquiries are ongoing, police added.