Hollie Gazzard's family unveil memorial bench in Gloucester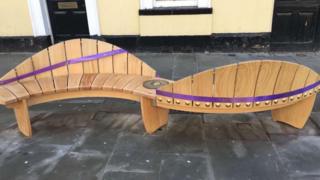 A memorial to a woman who was fatally stabbed by her ex-boyfriend has been unveiled by her family in Gloucester.
Hollie Gazzard, 20, was killed in February 2014 while working at Fringe Benefits and La Bella Beauty salon.
Two years on, a bench has been installed outside the salon in celebration of her life.
Nick Gazzard, her father, said those using it could "perhaps reflect on where they're situated".
He said the bench featured a "friendship globe" and described the design as "attractive, curvaceous and comfortable to sit on" .
"It's outside the very place she lost her life so we think that's fitting," he added.
Asher Maslin, 24, was jailed for life in July 2014 and told he would serve a minimum of 24 years.