Paralympian Mel Nicholls blasts 'dangerous' driver after near-miss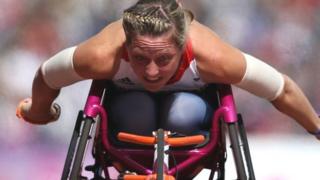 Paralympian Mel Nicholls has berated a motorist who she claims nearly hit her head-on in her race wheelchair.
The world record holder said a driver "refused to wait" at a traffic calming pinch point and sped towards her.
"I skidded across [the] road towards the car, narrowly missing being hit head-on," she wrote on Facebook after the incident in Tewkesbury on Friday.
She said there were "no excuses" and called on residents to spread the word about the "rude and dangerous driving".
"The car didn't try and stop or take aversive action, it just kept coming at me quite quickly," she told the BBC.
'Life flashed'
"I literally saw my life flash before my eyes and think there were a few choice words as I thought my numbers were up."
"It's such a shame that some don't seem to have any care of anyone else's life just so they can get through that few seconds quicker, or get in the queue that bit earlier, or in that parking space before someone else, and it's really sad."
Wheelchair-sprinter Nicholls competed in the 100m and 200m events at London 2012 and broke her own 1,500m T34 world record in 2014.
She also won medals at the 2014 European Championships and is expected to be selected for the Rio Paralympic Games later this year.