Richard Cole: Dutch canal victim 'had mobile phone stolen'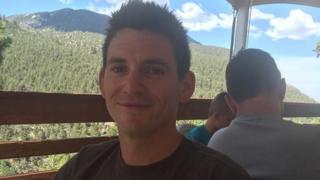 Dutch police have a said a British man whose body was found in a canal in Amsterdam had his mobile phone stolen shortly before he died.
Detectives investigating the death of Richard Cole, 30, from Dursley in Gloucestershire, said Mr Cole had been seen on CCTV before he went missing.
They said "a number of men" were suspected of robbing him and Mr Cole was "very drunk" and "an easy target".
They added the men are not suspected of being directly involved in the death.
Mr Cole went missing during a night out in the Thorbeckeplein area of the city on 25 January.
Dutch police said CCTV images showed him staggering after leaving a restaurant, before he was approached by the men.
They added Mr Cole was then seen crawling along before a taxi stopped to pick him up. Detectives want to trace the driver, who was the last person to see him alive.
Mr Cole's body was flown back to the UK earlier this week.