Coaches can carry on parking in 'Venice of the Cotswolds'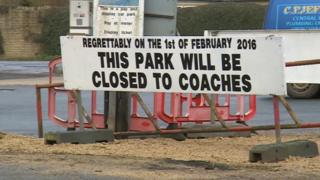 Coaches can carry on parking in the "Venice of the Cotswolds" after an agreement was reached about soundproofing.
The owner of the only coach car park in Bourton-on-the-Water had threatened to ban the vehicles, following complaints about noise and air pollution.
However, business owners said trade in the village would be "killed" if coaches could not drop-off tourists.
A soundproof wall will now be erected between the car park and houses.
More than 150,000 tourists visit the Cotswold village every year, but residents living close to Station Road Car Park had complained about drivers leaving their coach engines running.
However, the community was split after John Hackling, the owner of Station Road Car Park, put up a sign saying he would close the car park at the end of January.
Traders said they would see a "considerable loss of income" if the tourist coaches were banned.
Cotswold District Council will now lease the site and leave it under Mr Hacklings management. It will also take over responsibility for ensuring the coaches comply with environmental regulations.
Councillor Chris Hancock, said: "We know that the 31 January deadline has been of great concern to many people, including coach operators and local traders, and we trust that we can now put their minds at rest regarding the future of the site."
The Chairman of Bourton Parish Council Councillor Bryan Sumner added: "This site is vital to the future prosperity of the village, and many traders would have seen a considerable loss in income if we had not been able to find a way to accommodate coaches.
Mr Hackling said he had reached an "amicable agreement" with the council and he was "very happy" with the soundproofing solution.