Dean Goble blames brother for "head-on" drive at cyclists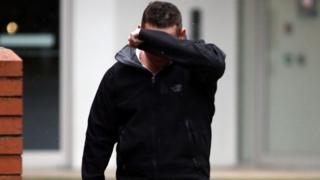 A motorist charged with "deliberately" driving head-on at three cyclists has been accused of trying to "weasel" his way out by blaming his brother.
Dean Goble, 40, of Siddington near Cirencester, is accused of trying to force the cyclists off the road in three separate incidents in 2014.
Mr Goble told Swindon Crown Court his brother had borrowed the car and was driving in the second two incidents.
He has denied three charges of dangerous driving.
The court heard he is alleged to have deliberately swerved at cyclists David Jones, Jeremy Maiden and Amanda Adams in his V-reg Peugeot 206 hatchback car.
'Act of desperation'
The incidents happened on 30 April on Ashton Road in Ashton Keynes, Wiltshire; on 7 May on an unclassified road between Ewen and Cirencester, Gloucestershire and on 8 May on High Road, Ashton Keynes.
Mr Goble admitted he was the motorist in the incident with Mr Jones but denied he was driving dangerously.
He insisted he was trying to avoid potholes on the "absolutely terrible" road and was in "full control of the car".
Prosecutor Michael Butt suggested he "invented" the line about potholes and said: "You are lying through your teeth."
Mr Goble said he had not told the police his brother was driving when the other incidents are alleged to have happened because he had been "in bother" and did not want to get him into more trouble.
But he said after a phone call where he had explained he could face two or three years in prison his brother told him: "Tell them it was me."
Mr Butt said this was "a lie invented as an act of desperation to try and weasel your way out of the allegations".
The trial continues.