Rare Roman tombstone to go on show at museum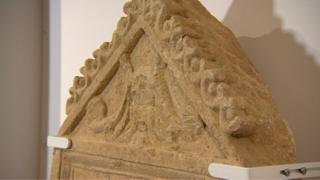 A roman tombstone found in Cirencester last year is to go on permanent display in the town from next week.
The gravestone was originally thought to have been linked to skeletal remains found beneath it, but archaeologists later said this was not the case.
It was dedicated to a 27-year-old woman called Bodicacia, but the skeleton was that of a middle-aged man.
The "really rare" discovery will go on permanent display at the town's Corinium Museum from 4 February.
Neil Holbrook, from Cotswold Archaeology, said experts now had a better understanding of the "conundrum" of the inscription not matching the skeleton.
"The tombstone to Bodicacia had been set up somewhere else, and then it was deliberately defiled - they chiselled off the face of the god Oceanus.
"The only explanation we can think of is that this was early Roman Christians in the later period who didn't like the idea of graven images or Pagan gods, and had deliberately smashed that off and perhaps pushed the stone over.
"Someone then used that stone as a coffin lid for a much later burial."
Mr Holbrook said that although the Roman tombstone was not unique to Britain - which would have been the case if the skeletal remains belonged to the person named on the inscription - it was still "a really rare thing".
"There are fewer than ten names of the people who lived in Roman Cirencester known to us, also the name Bodicacia is a previously unknown name, which is clearly Celtic."
Amanda Hart, from the museum, said the "extraordinary" object was one of six other Roman civilian tombstones on display.
"This is a Celtic influence, we have others from Germany, France and maybe even Africa.
"It tells us that Corinium was a multi-cultural town."
Cirencester, or Corinium as it was known, was the largest town in Roman Britain after London.