Gloucester council considers 'royal city' bid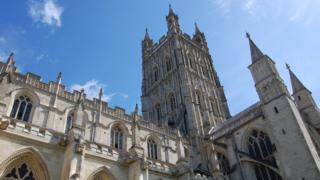 Whether or not Gloucester should push to seek a royal title is being considered by politicians in the city.
The city council is considering whether to petition for the title, which can only be bestowed by the Queen.
Paul James, council leader, said a motion would determine whether the authority felt strongly enough to consult the public on the matter.
Last year Leicester failed to win the public's backing for the same proposal.
'Royal connections'
There are currently four "Royal" towns, including Wootton Bassett in Wiltshire, as well as a number of royal London boroughs and the royal county of Berkshire.
Gloucester has "many royal connections", according to the council, including 2016 being the 800th anniversary of the coronation of Henry III in Gloucester Cathedral.
"We're doing this as the suggestions has been made on social media and it's right we should acknowledge it and it's right we should ask the public what they think," said Mr James.
If a petition was launched and it gained enough popularity, the government would be asked to make the case to the Queen.
The council debate the motion at a full council meeting next week.