Proposal spotted in field from Gloucestershire skies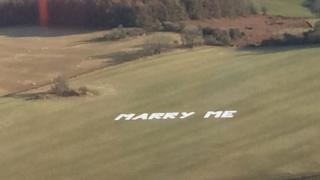 A giant marriage proposal has been spotted in a Gloucestershire field by the crew of an air ambulance.
Paramedic John Wood tweeted about the "surprising message" which the crew saw from 1,000ft (305m) above ground level over Hewelsfield near Lydney.
"Anyone know the outcome?" tweeted his colleague James Yates, describing it as a "unique proposal".
The crew was flying back to the charity's base in Filton, near Bristol, from an operation in Gloucester.
"They're big letters - very easily seen and made out of some kind of sheets," said Mr Wood.
"We were quite amused and haven't seen anything like that before.
"It made me wonder about the story behind it. Who put it there, for whom and has it been seen?"