Needles in Gloucestershire's recycling bins put staff at risk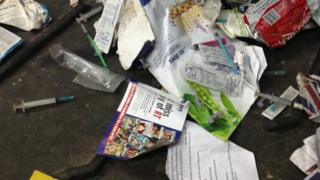 Syringes thrown in Gloucestershire's recycling bins put staff at risk and cost taxpayers, a council has said.
Drugs paraphernalia and needles used by diabetics have been found on conveyors at a Tewkesbury Borough Council depot 30 times in a year.
Each time a needle is found, the plant is shut down at a cost of £1,000.
Val Garside, from the council, said: "It seems we're the only local council experiencing syringes in our waste, but we really don't know why."
Grundon Waste Management was contracted by the borough council to run a fortnightly co-mingled collection in April 2014.
But last year, Ms Garside said it "suddenly started to find needles coming through on recycling loads" at the Bishop's Cleeve recycling depot.
"We're finding a wide range of materials - syringes, methadone bottles and foil that has obviously been used for drug taking - but it's the needles that are the issue," she said.
"In part, the recycling waste is hand-picked so not knowing what these needles have been used for makes it a huge health and safety risk."
'Goes to landfill'
The used needles and drugs paraphernalia have been traced back to collections from Churchdown, Woodmancote, Winchcombe, Brockworth and Perry Hill in Tewkesbury.
But despite working with community service Turning Point to encourage needle users to be more responsible, Ms Garside said they still "really don't know why" it is happening.
"In some instances the operators can clear part of the load and run it again on a slower basis and see if there's any more needles coming through," she said.
"But if there are more needles, very often they will have to reject the whole load - which then has to go to landfill."