Stamp duty blunder leaves Upper Rissington hall empty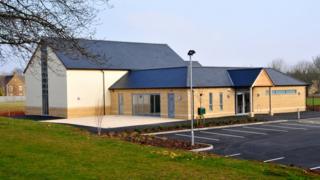 A new village hall in Gloucestershire has been empty for 10 months over an outstanding £32,000 stamp duty bill.
Upper Rissington Parish Council was not aware the levy was liable on the building in the Victory Fields development so had not budgeted for it.
It bought the building for £1 as part of a Section 106 agreement with developers and the district council.
Villagers have been told that it will cost £60 per household in order to cover the stamp duty shortfall.
But the council said it was pursuing other options in a bid to to stop residents from "paying through the nose" for it.
Vice chairman Brian Hanks said he was "dismayed" that the building was still unused and apologised to villagers.
The authority's aim remained "getting to the end goal - a brilliant hall for the use of the village", he said.
The annual village Christmas pantomime had to be performed in the old village hall building which the council said "is nearing the end of its natural life".
Cotswold District Council and developers Bovis Homes have been contacted by the BBC for a comment.