Radio link used to cross deep canal for internet access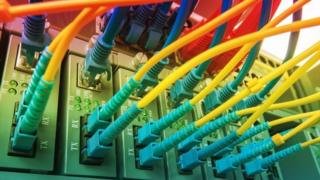 Radio signals are being used to bring faster internet access to a Gloucestershire village hindered by a deep canal.
Fastershire uses radio units placed in Longney to link with the opposite side of the Gloucester and Sharpness Canal at Hardwicke.
The canal is more than five metres (approx 16ft) deep, meaning laying cables would have been costly.
The aim is to bring faster broadband speeds by the end of 2018.
BT programme manager Matthew Lloyd said: "The microwave link uses a dedicated radio spectrum so there is no possibility of the signal being lost or interfered with."
Optic cables
The link uses 'point-to-point' technology between 12-metre (39ft) poles just over one kilometre apart.
The signal is then relayed via underground optic cables on either side of the canal to the main network.
The project is a partnership between Gloucestershire County Council, Herefordshire Council and BT.