Gloucestershire new homes on greenbelt 'inevitable'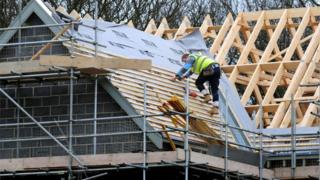 A blueprint for future housing in Gloucestershire has accepted new homes will inevitably be built on greenbelt.
Cheltenham, Gloucester and Tewkesbury councils' homes strategy was handed to the government 14 months ago but they have now been told changes are needed.
The inspector has not approved new homes in Churchdown and Leckhampton and wants less housing north of Cheltenham.
Councils have voiced concerns about future speculative planning applications.
Greenbelt concerns
Liberal Democrat leader of Cheltenham Borough Council, Steve Jordan said: "We've been waiting for the government inspector to carry out the examination which is the legal process it has to go through before it can be signed off.
"Originally this should have finished last year, it's now going to go well into next year so there is concern about the length of time it's going to take."
Although the draft proposals suggest 30,000 homes will be built the exact number has not yet been determined by the inspector.
While the core strategy which covers 2011- 2031, is still being thrashed out, councils remain concerned over the perceived loophole it creates allowing developers to submit speculative planning applications.
Mr Jordan added: "The inspector accepts that it's going to be inevitable we're going to have to use some greenbelt."
He added: "She's raised concerns about particular areas of greenbelt that have been suggested such as North Churchdown ."
The planning inspector is due to restart examinations next week.