Speed camera calls for busy road in Gloucester backed by AA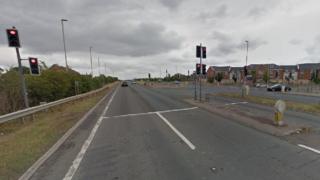 Calls for safety measures to be introduced on a busy road in Gloucester have been backed by the AA.
It follows a recent crash at a set of traffic lights on the A38 at Quedgeley.
Residents have called for the speed limit to be reduced from 70mph to 50mph and for speed cameras to be installed.
An AA spokesman said he supported the idea of putting up a speed camera. Gloucestershire County Council said it could not comment until a police investigation into the crash had ended.
Vice chairman of Quedgeley Parish Council, Graham Smith, said: "The traffic need to slow down at this junction.
"There is a timing problem [with the traffic lights]. It's an accident waiting to happen."
Ian Crowder from the AA said: "Where there is a serious safety concern the AA would support the positioning of a speed camera".
'Extremely busy'
He added that replacing the traffic lights with a roundabout was another option, and reducing the speed limit was "potentially the most straightforward thing to do".
"It's an extremely busy junction, a long straight road and extremely fast.
"When you have traffic lights at a busy junction there's often insufficient time [to stop].
"People will just go for it [to get through the traffic lights before they turn red].
"People coming off Kingsway, with a green traffic light, will assume they can go, and as happened the other week, somebody smacked straight into the side of them at high speed."
A county council spokesperson said: "We are aware the police are currently carrying out an investigation into last week's incident, and we will await the outcome of that before commenting further."