Parachute to fly with Bewick's swans on migration route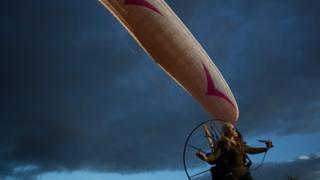 A conservationist is to fly with swans on a 4,500-mile (7,242km) migration from the Russian Arctic to Gloucestershire.
Sacha Dench, from the Wildfowl and Wetlands Trust, hopes to uncover new science about Bewick's swans, whose numbers have halved in 20 years.
She will leave with the birds next autumn, spending 10 weeks on the journey and crossing 11 countries.
The WWT has studied Bewick's swans for more than 50 years.
The journey will take Ms Dench over hundreds of miles of Arctic tundra to unvisited wetlands and through landscapes where she will have to navigate wind farms and tall buildings.
Along the way she will film and make live broadcasts.
Ms Dench said: "Flying a really long journey with Bewick's swans would introduce people to the story.
"If we can tell the story with modern technology, we can really show people what the swans go through and the huge range of people they're relying on."
Flying by paramotor, which involves being strapped to a small propeller engine and a parachute wing, is the best way to follow the migration as Ms Dench will be able to land and take off on foot on the remote tundra where no wheeled vehicle could.
Conditions will be tough: "We will be flying in the cold, with winds in the wrong direction, and having to find safe places to land on the tundra.
"It's a huge 370-mile (600km) stretch with no roads and huge amounts of water, pools and rivers all over the place."
In preparation for the trip Ms Dench has attended a survival course teaching her how to fish and find berries and mushrooms.