Machete attack victim 'saw full neck' blow to Zac Evans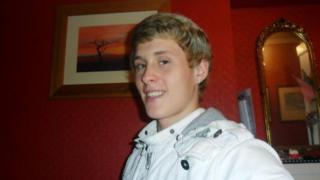 A seriously-wounded machete attack survivor described to Bristol Crown Court how he saw his friend being killed by a man wielding the weapon.
Keaton Jones was cut on his shoulder, neck and head in the attack outside a Gloucester pub in January. His friend Zac Evans was killed instantly.
He said: "I didn't see the blade strike him but where the guy did a full motion swing I saw Zac's neck split open."
The accused, Ewen Reynolds, 44, denies murder and attempted murder.
'Length of wood'
Mr Jones described Mr Reynold's alleged behaviour leading up to the attack outside the Pipe and Musket in Tuffley.
He said: "I didn't see him do anything, I didn't see him talk or breathe. He just stared at us."
"I just remember him doing this and walking off, but Zac hasn't got a violent nature."
He told the court he saw "a black object". He said the defendant, of Foley Close, Tuffley, "just pulled it from his back and swung it".
"To be truthful to you, it looked like a length of wood with an axe on it. It was like a full blow to the side of the neck," added Mr Jones.
He added that his friend "took three steps" then fell to the ground.
Mr Jones added that he wanted to "get him for what he had done to Zac" but suddenly stopped in his tracks, then saw blood on his hands and clothing.
When shown his own blood-stained clothing in the court, Mr Jones began to sob.
During police interviews Mr Reynolds replied "no comment" but will now claim he was acting in self-defence, the court was told
The court heard previously an argument broke out between Nicola Reynolds, who is the wife of the defendant, and Keaton Jones' girlfriend Abbie Wood.
Outside the pub the dispute escalated between the two women.
Painter and decorator Zac Jones died 25 minutes after the attack despite the paramedics being at the scene within minutes.
The trial continues.