Gloucestershire Police 'still need to make savings' despite budget freeze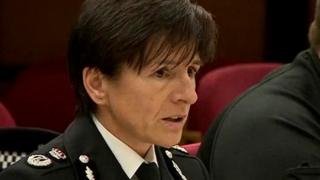 Gloucestershire's chief constable said the force will still have to find savings despite the chancellor's pledge not to cut police budgets.
Suzette Davenport said while she is "really relieved" potential cuts were not made, it still faced a deficit.
She said costs were rising and it needed the PCC to raise the police precept by 2% to maintain staffing.
Police and Crime Commissioner Martin Surl said the force would need "a compelling case" to raise the precept.
Mr Surl said he is expected to make his decision whether to raise the police precept in January after considering his options.
He said he would speak to the chief constable and take stock of other potential issues facing the police.
He added: "They will have to make a compelling case if they are going to have an increase, and they know that.
"The increase for the average household will be between zero and £4.
"I think people would want me to take a very considered decision... and to be very open and honest with them."
Last week the chancellor George Osborne said police budgets in England and Wales would be protected amid fears of significant cuts.
But Ms Davenport said the force faced rising costs and is being asked to do more.
"We'll still have to find savings and we're working through what that will look like at the moment," she added
The police precept is part of the overall council tax bill.
Precepts are also payable for parish councils and fire and rescue services.