Stroud canal £15m restoration bid to be submitted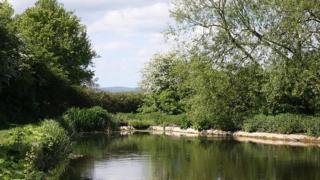 A £15m funding bid to restore the final stretch of the Stroudwater Canal in Gloucestershire is to be submitted to the Heritage Lottery Fund (HLF), later.
Stroud District Council has almost completed a 6 mile (9km) section between Stonehouse and Brimscombe Port but the waterway is "landlocked".
Now Cotswold Canals Trust wants to reinstate a final 4 miles (6km) to link it to the Gloucester Sharpness Canal.
The work is expected to take up to six years to complete.
The work, described as "one of the largest single projects" considered by the Lottery Fund in recent years, will include building a new railway bridge, channelling under the M5 and digging a mile of new canal.
Jim White, trust chair, said the society had been working to reinstate the canal for 40 years and he was "optimistic" the funding bid would be successful.
"At the moment we've got six miles restored but it's landlocked," he said.
"We are now making the connection between Stonehouse - or the ocean as we call it - out to Saul Junction which joins us on to 2,500 miles of inland waterway.
"We've put a very strong case to why it has to be done - so I'm optimistic."
The scheme is part of an ongoing project to link the River Severn with the River Thames for the first time in more than 70 years.