Rarely seen pure white swallow spotted in Cirencester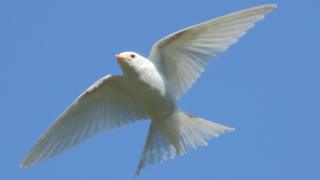 A rarely seen all-white swallow has been spotted in Gloucestershire.
The pure white bird was snapped last week by Dave Sooner near the Cirencester Rugby Football Club.
Mr Sooner said his mobile phone "went absolutely mental" after he posted images of the bird on Twitter and it was re-tweeted more than 100 times.
Hein van Grouw, of the Natural History Museum, said it was not a "real albino" as it retained some melanin pigment, but was "still pretty rare".
Mr Sooner, an amateur wildlife photographer, said the all-white swallow was the first he had ever seen and was "probably the last".
"The nest was tucked away and when the barn door was opened, there was this white bird flying around," he said.
"It was being chased by quite a few of the other swallows when it was flying low because it stood out, but in the air it wasn't being bothered by the other birds.
"I thought it would be about for a week but when I went on Wednesday and Thursday it wasn't there - which is a shame."
Mr van Grouw said true albino birds had very poor eyesight and rarely survived after fledging, and the Cirencester swallow was an "Ino".
"The mutation Ino in general is one of the more common aberrations found in birds but is of course, like all colour aberrations, still pretty rare," he said.