Work begins to turn abandoned railway at Newent into a canal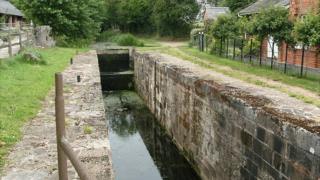 Work has begun to turn a railway line in Gloucestershire back into a canal.
The line at Newent was originally built as a waterway but in the 1880s it was turned into a railway, before being abandoned in 1964.
The Herefordshire and Gloucestershire Canal Trust said work had begun to "put a canal back between the platforms".
The project is part of a scheme to restore the entire 34-mile (55km) waterway between Gloucester and Hereford.
The canal, which ran through Newent, Dymock and Ledbury, was closed in 1881 to make way for the Ledbury to Gloucester railway which in turn was closed in the 1960s.
'Water on tracks'
With most of the route sold off "piecemeal to over 100 landowners", the trust said acquiring the land was a "major challenge".
"But we now control all the land at Newent, around the old railway station site, so we're just starting to clear between the platforms," said David Penny, from the trust.
"And over the next few years we will completely recreate the whole of the railway station, be putting water on the railway track and a canal back through the platforms."
A 225th anniversary campaign has been launched by the trust in a bid to raise the "substantial funds" needed to reinstate the rest of the canal.