Gloucestershire Hospitals NHS Foundation Trust 'requires improvement'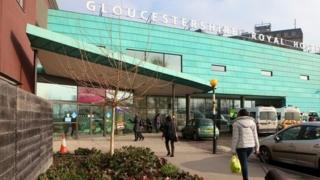 A trust that runs three Gloucestershire hospitals has been told by a health watchdog that it requires improvement.
Gloucestershire Hospitals NHS Foundation Trust was criticised for waiting times in A&E departments and delays in ambulance handovers.
The Care Quality Commission (CQC) report also said there were not enough consultants in emergency departments at Gloucestershire Royal Hospital.
The trust said it had already begun to address some of the issues.
The inspection, between 10 and 20 March, looked at departments at Gloucestershire Royal Hospital, Cheltenham General Hospital and Stroud Maternity Hospital.
It said issues with the flow of patients through hospitals and pressures on wards to discharge patients had led to patients not always being treated on the most appropriate ward and overcrowding in emergency departments.
The report also highlighted that A&E waiting-time targets were constantly not being met and patients were having to queue in emergency department corridors for treatment.
'Waiting too long'
CQC's chief inspector of hospitals, professor Sir Mike Richards, said: "It is well known that patients have been waiting too long in A&E.
"I am aware that this is being investigated, and we will continue to monitor the trust's performance in this important area."
In December 2014 and January 2015, the trust declared a major incident when demand in A&E departments became unmanageable.
The trust's chief executive, Dr Frank Harsent, said: "Clearly the winter was a very challenging period for us and this has had an impact on our performance.
"In relation to the four-hour waiting standard at A&E, we are determined to make this better for patients and we are working closely with our health and care partners to do this."
In addition to the three hospitals, the trust also runs six outpatient clinics but these were not visited for this inspection.