Cotswold villages to get faster broadband than cities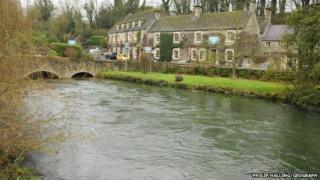 Some of the Cotswolds' most isolated villages are to get access to faster broadband than most UK city centres.
Ultra fast broadband of up to 1 gigabit per second (Gbps) will be delivered to Guiting Power, Chedworth, Whelford, Bibury and Icomb by 2017.
Rural broadband network Gigaclear will use "fibre to the premises" technology to deliver the service.
Chedworth broadband campaigner Mark Aveline said the Cotswolds' broadband network would be "the envy of all".
In the last Budget, George Osborne promised broadband speeds of at least 100 megabits per second (Mbps) to nearly all homes.
The service being offered to 6,495 homes and businesses in the Cotswolds will be up to ten times faster.
BT is laying 2,500km of optical fibre cable in Herefordshire and Gloucestershire as part of the "Fastershire" project to cover 90% of homes and businesses by the end of 2016.
But the £10m contract announced on Monday - part of efforts to reach the remaining 10% - has gone to Gigaclear, which specialises in rural broadband.
Gigaclear are using "fibre to the premises" technology, which is faster, but more expensive to deploy, than BT's preferred "fibre to the cabinet" technology, which relies on copper wires for the connection between the street cabinet and the home.
Gigaclear says 1Gbps would be a premium service and the bulk of new customers are expected to sign up for 50Mbps.
It is the first time a firm other than BT has been awarded funds from the "superfast extension programme", cash from central and local government, which is overseen by the government's Broadband Delivery UK.
Gigaclear is investing £7m in the project, while £3m is public money. Gloucestershire County Council Leader Mark Hawthorne said the project would "enable us to provide faster broadband to some of the county's most difficult and isolated areas".