Rare Roman tombstone 'part of mausoleum', experts say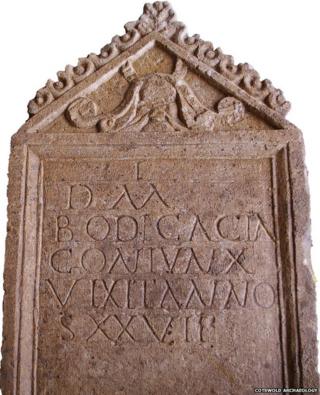 A Roman tombstone unearthed in Cirencester may have been part of a mausoleum wall and not linked with the skeleton beneath it, experts have said.
The gravestone was thought to be the first of its kind found in the UK as it was found covering skeletal remains.
Archaeologist Martin Watts said: "The dedication on the tombstone is to Boudicacia, a woman; the body beneath it is definitely that of a male."
He said the tombstone and skeleton were also laid at different times.
'Free-standing'
"Also the grave soil above the skeleton was really not very deep," he said.
"Had it just toppled over on top we would have expected much more soil between the grave slab and the body."
"Now we've come to look at the gravestone itself, it's clearly of 2nd Century AD of origin, so early Roman, whereas the burial is almost certainly from the 4th Century, so late Roman."
Archaeologists are also debating why the back of the stone was roughly-hewn and seemingly unfinished.
"The interpretation now is that is unlikely to have been a free-standing tombstone but may well have been built into the wall of a mausoleum or similar structure at the cemetery," said Mr Watts.
Archaeologists say the tombstone belonged to a Roman woman named Bodicacia.
The Latin inscription on it reads: "To the shades of the underworld, Bodicacia, spouse, lived 27 years."
The new theories come from Dr Martin Henig and Dr Roger Tomlin of the University of Oxford, who specialise in Roman sculpture and Roman inscriptions and are among the top experts in this field.