M5 Gloucester Services opens with 'first' fishmonger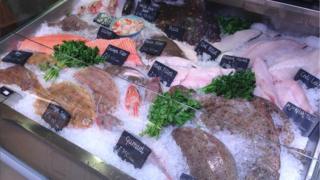 A new service station bringing fresh fish and meat to the travelling masses has opened on the southbound M5.
The Gloucester station claims to be the first to introduce a fishmonger to the motorway alongside its on-site butcher, patisserie and chocolatier.
The northbound services, near junction 12, opened in May 2014 after years of planning debate and appeals.
Operator Westmoreland has spent about £40m on both services, with around 300 people expected to be employed.
Chief executive Sarah Dunning, said the company had "raised eyebrows" when it unveiled the idea.
She added: "Why shouldn't you be able to pick up fresh fish caught in British waters on your way home from work or on your way to a holiday cottage?"