Indonesia executions: 'Saddened' Lindsay Sandiford 'could be next'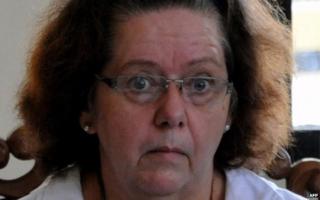 A British drug smuggler on death row in Indonesia has called the execution of two fellow prisoners "senseless and brutal" - and her lawyer has said she could be among the next to be executed.
Lindsay Sandiford from Cheltenham said she was saddened to learn of the deaths of Myuran Sukumaran and Andrew Chan.
Her lawyer, Craig Tuck, said Ms Sandiford's name could be on the next list of prisoners due to be executed.
Eight people were executed by firing squad in the early hours of Wednesday.
In a statement issued via her lawyer Ms Sandiford, 58, described Mr Chan as a "dear friend", and sent her condolences to the families and loved ones of the men who were shot on the prison island of Nusakambangan.
'Close friend'
Ms Sandiford has been in jail since 2012 after arriving in Bali from Thailand carrying drugs with a street value of £1.6m.
"Andrew in particular was a close friend and confidante to me during my time at Kerobokan prison," she said in the statement.
"He counselled and helped me through exceptionally difficult times after I was sentenced to death in 2013."
The statement described how Mr Sukumaran and Mr Chan helped prisoners in the jail by organising painting classes, cookery classes and computer classes, and by "making sure the poorest prisoners had food, clothing and essentials".
"Whoever they were and wherever they were from, they made sure inmates who were sick got access to health care and hospital services which are not covered by the prison budget," she added.
List of names
"The men shot dead today were reformed men - good men who transformed the lives of people around them. Their senseless, brutal deaths leave the world a poorer place."
Mr Tuck said Ms Sandiford's name "may well be" on the next list to be issued by the Indonesian attorney general's office.
"There is going to be another round [of executions]. It's a question, not of if it's going to happen, but when it's going to happen."
He added that another appeal against Ms Sandiford's conviction to be put before the Indonesian Supreme Court was in the process of being prepared.
A campaign to raise funds for her appeal has raised almost 4,000 New Zealand dollars (£2,000).
Sandiford was arrested at Bali's airport in May 2012 after 4.8kg (10.6lb) of cocaine was found in the lining of her suitcase during a routine customs check.
Sandiford said she was coerced into bringing the drugs to the island but she was convicted and sentenced to death the following January. An appeal mounted later in 2013 was rejected.