Lydbrook village gets new £290k flood defences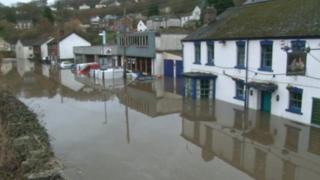 Building work has started on improved flood defences in a village in the Forest of Dean.
The £290,000 project involves replacing a section of culvert - or drain - to slow down and reduce the flow of water passing through Lydbrook.
Forest of Dean District Council cabinet member Marrilyn Smart said: "Residents of Lydbrook have waited absolutely ages for this."
Part of the B4234 through the village will close for 12 weeks for the works.
Ms Smart added that attempts to stem the flow of water would also be made in the upper catchment area.
She said: "They will build a little dam from wood or stone... it slows the water down and should provide improved habitats and have ecological benefits."
In 2013 the district council announced it planned to spend £1m on a new storm drain but this was dependent on securing funding.
As only part of this money - £290,000 was secured - the council opted to replace the section of culvert as it was the most effective way of reducing flood risk with the money available.
Lydbrook and Upper Lydbrook were badly flooded in 2012.