Slad Valley housing plan ditched by developer Gladman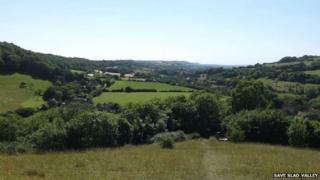 Campaigners have welcomed a decision by a developer to withdraw a challenge over housing plans near Stroud.
Developer Gladman wanted to build 112 homes on Baxter's Field off Summer Street in the Slad Valley, which was made famous by writer Laurie Lee.
Stroud District Council and a planning inspector both rejected the planning application last year.
Gladman sought a judicial review to try to reverse the decision, but has now withdrawn its legal challenge.
Richard Lloyd, from the Campaign to Protect Rural England (CPRE) Gloucestershire, said it was "great news for Stroud".
"[It] should give some hope to other threatened landscapes across the UK which have particular heritage value.
"When sound explanations and a reasoned defence are mounted against an unreasonable planning application, developers can see their plans defeated, however big their chest of fighting funds," he said.
Earlier this month a decision to approve plans by the same developer, for up to 150 new homes on fields nearby on Mankley Field near Kings Stanley, was upheld at the High Court.