Grimsby Town fan's ejection from Forest Green match investigated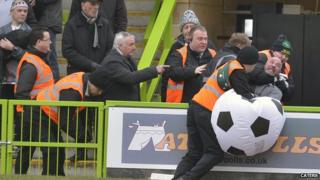 A football club is investigating the ejection of a fan of a rival club from its ground before kick-off.
Stewards at Forest Green Rovers ejected a Grimsby Town fan from The New Lawn before Saturday's game.
Images show supporter Bryan Winship held in a headlock by a steward.
The Gloucestershire club said in a statement the photos "do not make good viewing for a club that prides itself on being family friendly and welcoming to away fans."
The club said it was investigating the removal of a fan from the away end and added it was "awaiting the post-match report from the stewarding company before we comment further on the incident".
'Going purple'
Mr Winship, 41, from Ulceby, was later interviewed by the Grimsby Telegraph and told the newspaper he "couldn't breathe" as he was ejected.
He said he had taken an inflatable football to the match to inject a "bit of fun" into the game.
But when he began blowing it up, he was told by a steward the item would be taken off him, he said.
When he refused to hand it over, he said he was grabbed by another steward who put him in a headlock and ejected him from the stands.
Mr Winship had been at the game with his 15-year-old daughter Janelle, who tweeted: "Seeing my dad being held at the throat going purple not being able to breathe and getting dragged out the ground was pretty scary ngl #gtfc."
Freelance photographer Duncan Young, who took the pictures for the Grimsby Telegraph, said he was setting up his camera at the halfway line when he heard "booing and hissing from the Grimsby Town fans" and spun round to start taking photos of the disturbance.
He said: "One of the stewards had this chap in a headlock and he looked really, really distressed."
Forest Green Rovers said it would not release the name of the private company which provides its stewards until its investigation is complete.