Eric Pickles incinerator decision 'needed before election'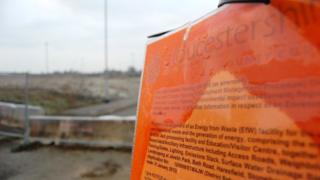 The government has been urged to make a decision before the general election on whether an incinerator can be built in Gloucestershire.
Communities Secretary Eric Pickles has postponed his ruling on the £500m scheme three times since September.
Five Liberal Democrats on Gloucestershire County Council have asked for a meeting to be arranged.
The county council rejected plans for an incinerator at Javelin Park in 2013 but it was challenged by the developer.
The Liberal Democrat councillors have submitted a written request to the Conservative-led authority's chairman, asking for an extraordinary council meeting to be arranged this month.
'Disgrace'
Leader of the Liberal Democrats, Jeremy Hilton, said: "Once this meeting has been arranged, we'll be insisting the leader of this council Mark Hawthorne writes to the secretary of state immediately.
"Two years ago, the county council's planning committee unanimously rejected permission to build a massive waste incinerator at Javelin Park.
"It is a disgrace that Eric Pickles has for the third time failed to make a decision on whether or not such a facility should be built.
"We demand that Mr Pickles makes his decision no later than the start of the 2015 general election purdah period."
Purdah is the term used to describe the period between the time the election is announced and the date the election is held.
It recognises that a new government might be expected to take a different view on policy decisions from the present one.
Plans for an incinerator on a 30-acre site at Javelin Park near Gloucester have been debated for the past decade.