Stolen Tetbury royal wedding cake tree to be replaced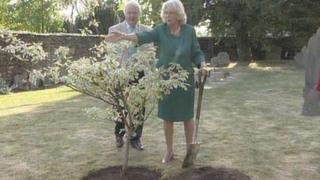 A stolen Wedding Cake tree which was planted by the Duchess of Cornwall to celebrate Prince William's marriage is to be replaced.
Camilla planted the sapling in 2011 at St Mary's Church in Tetbury - one mile from Highgrove House where she lives with Prince Charles.
However last month the 6ft (1.8m) tree was stolen from the churchyard.
The Tetbury Evening Women's Institute, who donated the tree, have now said they will replace it.
'Blooming and flourishing'
President Chris Gibson said: "We were obviously very distressed that the tree has been stolen, and the site vandalised.
"When I reported this to our meeting in December there was an overwhelming response from our members that we should buy another tree, and that's what we are doing.
"It was blooming - flourishing at its site - but we are going to have to start again."
The Duchess planted it a week before the royal wedding in April 2011, and told guests she hoped it would "remind everybody in Tetbury of a wonderful and special day".
The tree species - also known as Cornus controversa - is nicknamed wedding cake due to its horizontal, tiered branches and star-shaped white flowers in the summer.
Gloucestershire Police said the theft took place between 21-28 November and are appealing for information about the tree, which belongs to Tetbury Town Council.
---
What is a Wedding Cake tree?
A deciduous tree
The branches grow in tiers
From May it is covered in star-shaped white flowers
In autumn the bright green leaves turn purple
Also known as Cornus controversa
From Japan and Korea
---